What answer do you want? The "caricature " that you posted appears to be at a carnival, or similar, and is most likely about raising funds in a light hearted manner. I don't believe it to be an attempt for a man to look like a woman, be a liberated man wearing a dress, or even someone trans going about their own business.
In terms of masculinity, well, it's a social construct, so, if you are in the West, in 2020, you cannot "maintain masculinity" if you are wearing a dress. How people in the skirt cafe look at it is another matter. A lot of feminine fashion is about disempowerment. whether that be stiletto heals, bound feet, or a hobble skirt....i.e. it is accentuating fragility or vulnerability that is widely perceived to be a pre-requisite of femininity. For me that extends to a clutch bag.... ditch the bag and ask me again lol. Would a better question be "Can a man wear a dress without looking feminine?"...Hmm... here's a few ways how to not look "feminine" in a dress....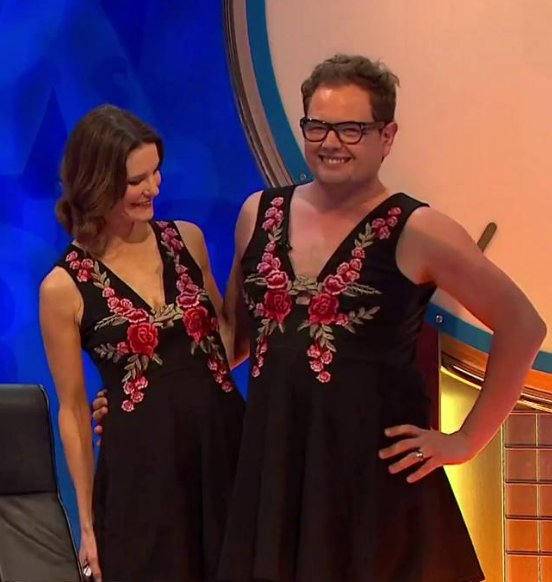 Alan Carr
Roy-Hudd in panto
Roxanne Edwards - bodybuilder
Still not sure? Get over it, it's a social construct!
BTW, for anyone out there who doesn't know me (there must be some), yes, I wear dresses and I celebrate men who have the courage to wear one too.