It's pretty rare that I see something in a style I like* and a price I like** that fits me*** right off the rack, so when it happens I jump on the opportunity. Our local Walmarts have a "Time and Tru" brand out on the sale racks the past few weeks, and tonight I finally had a chance to take a closer look. $17 for a wonderful maxi with short sleeves and a neckline that isn't intended to plunge down to upper attributes I don't possess. I normally wear a 22 or 24, so I was a little worried that the one marked "XL/16-18" would be too small for me but I've had good experience with Walmart in the past (they tend to run a little large to appeal to low-budget, out-of-shape rednecks like me).
Best of all... POCKETS! Why don't more dresses come with pockets? This could be my new favorite, and I have a lot of favorites in my closet.
Sure enough, it fits like a dream. Ralph says, check it out! Behold, the
Time & Tru "Burnout Maxi Dress"
.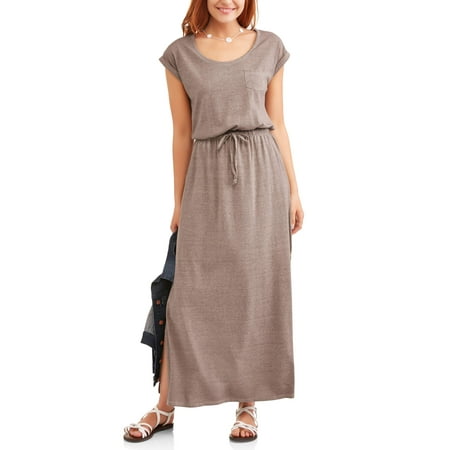 * I'm somewhat old-fashioned. I prefer mid-calf to ankle-length skirts, loose fit, and a modest high neckline that doesn't plunge down to my nonexistent cleavage. Short but full (shoulders covered) sleeves in the summer, wrist-length in cooler weather. That's what I prefer to wear, and that's what I prefer seeing on the ladies.
** If I ever spend more than $30 on a single article of clothing, it's time to admit I have a problem
*** depending on how unsuccessful my diet attempts are going, somewhere between a tight 18W and a loose 24W. You'd be amazed how few skirts and dresses meeting my other requirements are in that size range.