Saw this on Facebook and had to share it here

I Feel More Like a Man While Wearing a Dress Than I Ever Did in a Suit
Great read


Uncle Al



Kilted Organist/Musician
Grand Musician of the Grand Lodge, I.O.O.F. of Texas 2008-2009, 2015-2016,
2018-2022(and the beat goes on

)
When asked 'Why the Kilt?'
I respond-The why is F.T.H.O.I. (For The H--- Of It)
Member Extraordinaire
Posts: 242
Joined: Thu Oct 31, 2019 10:46 pm
That's a real inspiration. Especially:
If you want to make a dress for yourself, I have some practical advice: get the right cut for your body. Women's dresses often have waist seams and bust seams that accentuate a female figure. If you want to accentuate your V-shape, you'll need to space the shoulder seams further out, and the waist seam probably needs to go down a couple of inches.
This nails what I sort of knew but couldn't quite figure out. Those dresses, especially the second and third ones, are what I'm trying to achieve. He also gives some more tips
here
.
Really, really nice!
There are more and more articles like this appearing in conjunction with the fashion world now pushing gender fluidity. There have been a few interesting articles featuring Harris Reed over the last few days for example. I do get the feeling that with the rise of generation Z , the days of gendered fashion is numbered. Of course, the fashion industry will look at this in terms of profit, since if they can even entice 10% of men to become interested in wearing skirts and dresses, that is huge for them. Not all men will be interested in wearing skirts and dresses, but that is to be expected, but what I do expect is to start seeing more of it, especially once we emerge from the pandemic.
Member Extraordinaire
Posts: 2497
Joined: Wed Jan 07, 2015 2:50 am
Location: Outback Australia
Yes, quite inspiring. I particularly like these
: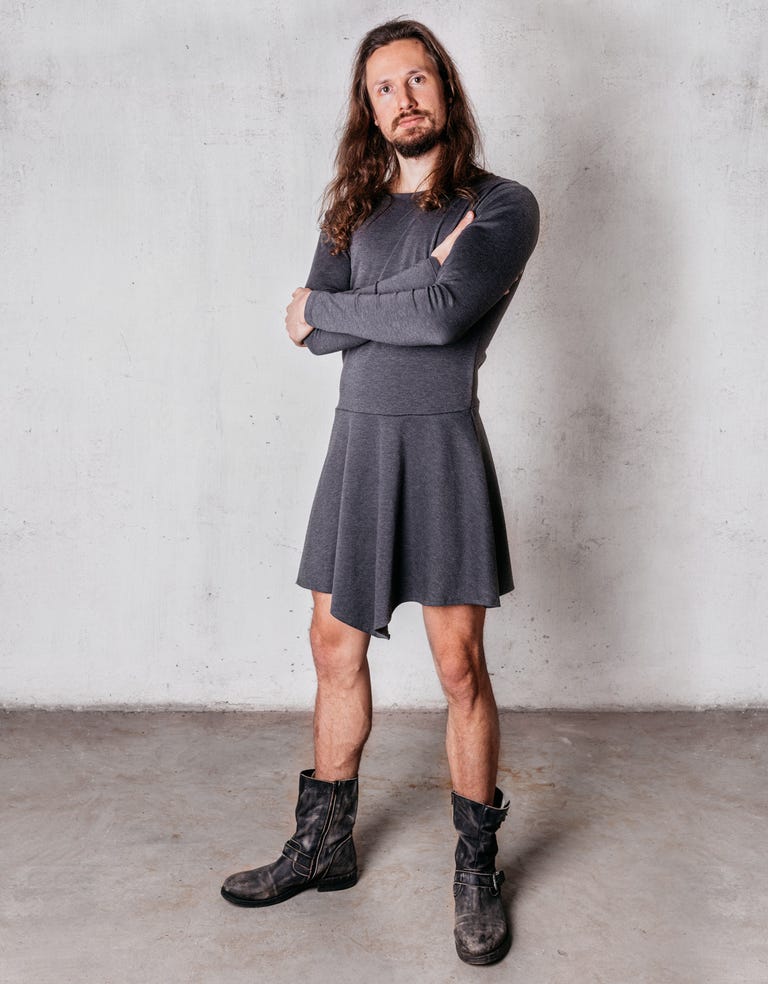 Anthony, a denim miniskirt wearer in Outback Australia
Member Extraordinaire
Posts: 1539
Joined: Sun Oct 25, 2015 6:39 am
Location: Portland, OR, USA
You're right Al, this article about says it all.
David, the PDX Fashion Pioneer

Social norms aren't changed by Congress or Parliament; they're changed by a sufficient number of people ignoring the existing ones and publicly practicing new ones.
That's a brilliant article, this kind of guy is my inspiration. And some of his outfits are exactly what I'm looking for!
Member Extraordinaire
Posts: 5951
Joined: Sun Aug 09, 2015 1:58 am
Contact:
Long full hair... chiseled legs... no Buddha belly...
.... now I know how the "average" girls feel reading beauty magazines!


Ahh... I accept my fate being a pudgy, balding, skirt wearing mountain hillbilly!

"The price of freedom of religion or of speech or of the press is that we must put up with, and even pay for, a good deal of rubbish."

Justice Robert H. Jackson
Member Extraordinaire
Posts: 2451
Joined: Fri Sep 17, 2010 11:01 pm
Location: North East Scotland.
moonshadow

wrote:

↑

Sun Apr 04, 2021 4:50 am

Ahh... I accept my fate being a pudgy, balding, skirt wearing mountain hillbilly!
Yeah Moon, and me, a grizzled out of shape 63 year old with weird hair and a penchant for dresses and heels.
Ha Ha, we are what we are and I am just enjoying getting old as disgracefully as I can.
Steve.
That was a great article I enjoyed reading. This gentleman knows what he's talking about.
I don't want to LOOK like a woman, I just want to DRESS like a woman.